$20
Event Details
A Little Light for the Nightingale: A Fundraising Event for Cameron Blake's Newest Album Project
Frederik Meijer Gardens & Sculpture Park : Garden View Room
Thursday, April 21 at 6:30 P.M.
MESSAGE FROM THE HOSTS:
"Please join us for an evening of exclusive entertainment and fundraising for my dear friend Cameron Blake's newest musical venture. His art touches my soul and heals my heart. I am so excited to share this evening of his amazing talent with you."
-Mary Beth Mead
"Cameron's gift of music and lyrics has been a joy to hear and watch as it continues to grow. We welcome the opportunity to share in the next production, A Little Light for the Nightingale, and invite you to do the same. The evening, at beautiful Frederik Meijer Gardens, promises to be moving, joyful, and heartfelt. Please join us and help us make this next production a reality. As a reviewer of his last record said, 'His music needs to be heard.'"
- Jim and Patti Kenyon
TICKETS:
EXCLUSIVE EVENT ADMISSION: $20 *admission proceeds go toward cost of the event
ADVANCED PURCHASE ONLINE: http://www.storenvy.com/products/16171638-a-little-light-for-the-nightingale-a-fundraising-event-for-cameron-blake
Tickets may also be purchased at the door. Seating is limited so please RSVP by Evite or advance ticket purchase by Friday, April 1st
Tickets Include:
Private viewing of indoor gardens, the butterflies will be in bloom inside the Lena Meijer Tropical Conservatory
Free Parking
1 Beverage (wine, beer, water)
Dessert Bar
Cash bar
PARTNERSHIP OPPORTUNITIES:
Available for different levels of donations at the event (cash or check preferred). These rewards include:
Exclusive song written for you or a loved one
Private House Concert
Your name included in album liner notes as an album benefactor
Back catalog of Cameron Blake's records (5 discs total)
and more..
SCHEDULE OF THE EVENING:
6:30 – 7:00 Enjoy the indoor gardens at your leisure
7:00 – 8:00 Live performance set 1
8:00 – 8:15 Dessert
8:15 – 9:00 Live performance set 2
9:00 -10:00 Mingle and enjoy the indoor gardens
Cameron Blake will be joined by musical guests:
David Lockington, cello (music director laureate of the Grand Rapids Symphony)
Martin Spence, piano
Michael Schaeffer, accordion
Matt Noykos, upright bass
ARTIST STATEMENT:
A Little Light for the Nightingale
Throughout the production of my past records, I've realized how each project is a stepping-stone to the next. The vision for my most recent album Alone On The World Stage was simple yet highly personal and ambitious: produce an album of songs with no added instrumentation outside of a singular voice with guitar or piano. I aimed for songs with lyrics that would invite the listener to think about the world around them and melodies that had a universal, human quality. It was a challenging process and the album received success beyond my expectation by garnering fantastic international reviews, 'best of 2015' lists (including a #1 record of the year spot in the Netherlands) and full features in music magazines on stands throughout Europe.
Where would my art take me next? I've found that art follows life and as a father of two, I've spent memorable evenings this past year introducing our girls to Louis Armstrong, chasing the moon and building train sets. A Little Light for the Nightingale captures every adult's longing to see like a child again. There's a nostalgic, storybook quality to these eleven songs and yet they were extremely difficult to come by- a period of writer's block coinciding with a season of self-doubt and anxiety. I talked to God constantly and I eventually re-discovered hope and learned a lot about joy. I needed to slow my brain down to allow the muse to work its magic. It's all there in the music and I'm excited to share it with all of you.
While the lyrics and melodies of A Little Light for the Nightingale harken back to a seemingly more sentimental time - Johnny Mercy (Moon River), Billie Holiday (Lady In Satin) and Frank Sinatra, they are not meant to be neoclassical or part of any vintage revival. It's a new vision. I hear a jazz quintet, string and horn sections, an accordion and a girl's choir. I hear lush, slightly dissonant harmonies and ragtime swing. I hope to mix my classical background in violin performance with my interest in French chanson. A big sound is required for these "little" songs but I can hear it all in my head and with your help, I can bring this vision to life. I invite you to attend the unveiling of my new work at Frederik Meijer Gardens & Sculpture Park on Thursday, April 21 at 6:30 p.m. It will be an opportunity to experience the new songs in proper, stripped down fashion with some of my wonderful musical friends and give you the opportunity to be a part of contributing to the creation of my newest work A Little Light for the Nightingale.
- Cameron Blake
ARTIST BIO:
Cameron Blake is a singer-songwriter living in Grand Rapids, Michigan. Classically trained as a violinist, Cameron taught himself to play the guitar and piano and began writing and performing his individual brand of chamber folk in the Baltimore music scene. Since 2009, he has released four studio albums, one live album and has toured throughout the East Coast, Texas, Colorado and Michigan. Known for his powerful lyrics and soulful baritone voice, Cameron's music has garnered attention in publications such as The Washington Times, Songwriting Magazine, Folk Radio UK and Guitarist Magazine. His most recent album Alone On The World Stage was recorded at Stone House Recording in Grand Rapids with nothing more than voice, guitar and occasional piano. The record has garnered international acclaim for its subject matter; a heart-rending, poetic and poignant picture of the issues that face the world we live in today.
FUNDRAISING GOAL: $15,000
Includes:
Hiring studio musicians: jazz quintet, Grand Rapids Symphony string and brass ensembles, girl's choir and more
Arranger for string and brass parts
Production, recording and mixing
Mastering
Album photo shoot, album art design
Album packaging/printing
Digital distribution
PR campaign for album release
---
$10
Cameron Blake will present a beautiful and memorable evening of music, storytelling and poetry. from his recent album 'Alone On The World Stage.' Not to be missed!
---
$2
A one of a kind 5.5" x 2.14" vinyl bumper sticker to celebrate the song "Fireman Snowman" from Cameron Blake's forthcoming album Alone On The World Stage
---
$15
---
$10
---
$10
---
$10
---
$10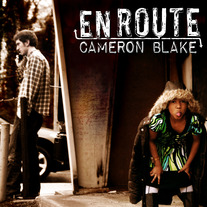 ---